Complete ADS-B Solution for Experimental Aircraft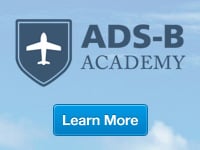 Integrates with G3XTM series flight displays for fingertip control and squawk code entry
Satisfies NextGen requirement for ADS-B "Out" when paired with a compatible GPS position source
Provides 1090 MHz ES (Extended Squitter) output for operations at any altitude, in airspace around the world
Supports dual-link ADS-B "In," which provides the most complete traffic picture, plus subscription-free weather on select avionics, mobile devices and portables¹
Streams ADS-B weather and traffic via Connext® to select mobile apps as well as aera® 795/796 and aera 660 portables
Outfitting your experimental or light sport aircraft to meet equipage rules for NextGen airspace just got easier — and more beneficial. With the GTX 45R ADS-B transponder, you have a simple solution with minimal expense, while also providing all the weather and traffic benefits of ADS-B "In" and Connext wireless cockpit integration.
Next Generation of Transponders for NextGen
The GTX 45R ADS-B transponder provides Mode S ES ADS-B "Out" when paired with your choice of compatible GPS position sources so you meet the Dec. 31, 2019, requirements for flight at any altitude, anywhere in the world. It provides more useful traffic surveillance data to ATC, including aircraft flight ID, position, altitude, velocity, climb/descent and heading information. Plus, it uniquely integrates with both your G3X™ Touch flight display and GTN™ 650, GTN 750 or GNS™ series navigator to provide advanced ADS-B traffic and subscription-free weather². GTX 45R also streams wireless traffic and weather to select Garmin portables and tablets running Garmin Pilot, ForeFlight Mobile or FltPlan Go apps.
Integrated Operation

With the remote-mounted GTX 45R, use your G3X or G3X Touch for transponder control, including squawk code entry. Meanwhile, GTX 45R provides the capability to display various ADS-B "In" benefits on your panel — whether you have a single G3X Touch or a trio of G3X Touch displays and a GTN. And with SVX™ 3D Vision technology on G3X Touch, traffic targets also appear in context on your primary flight display.
The extra-precise GPS position reference required for ADS-B can be provided by a GTN 650/750 navigator, GNS series WAAS navigator or a GPS 20A ADS-B position source. In any event, GTX 45R offers a simple, minimally intrusive ADS-B solution to fit your aircraft.
Clear View of Traffic

The GTX 45R transponder includes a dual-link ADS-B "In" receiver, so it "hears" both frequencies (978 MHz and 1090 MHz) authorized for ADS-B operations in the U.S. Not only does this provide the most complete traffic picture from aircraft transmitting on either frequency, but it also enhances your aircraft's ability to access ADS-B ground station transmissions and services from virtually anywhere.
You'll receive ADS-B traffic position reports (and threat-level symbology) to help you "see and avoid" converging targets in busy airspace. Spoken audio alerts call out potential flight path conflicts ("traffic, 10 o'clock, same altitude, 2 miles") to get you looking in the right direction. Meanwhile, on your display, our patent-pending TargetTrend™ relative motion display2 offers a faster, more intuitive way of judging target trajectories and closure rates in relation to your flight path. As an added safety feature, our TerminalTraffic™ technology provides a comprehensive picture of ADS-B equipped aircraft and ground vehicles in the airport environment. ADS-B equipped aircraft in flight are easily distinguished from ground vehicles and taxiing aircraft, which are displayed using distinct colors and symbols.
Weather Wise
In addition to traffic, GTX 45R also makes available subscription-free weather that can be overlaid on your flight display. The ADS-B weather link is continuously broadcast on the 978 MHz Universal Access Transceiver (UAT) frequency and is similar to the basic services offered by leading commercial satellite weather providers, including NEXRAD imagery, METARs, TAFs, winds and temperatures aloft, PIREPs, NOTAMs and more².
Portable and Mobile Advantages
With built-in Connext technology, GTX 45R allows you to wirelessly stream ADS-B "In" benefits, including advanced traffic and weather, to Garmin GPS portables. Portables include aera® 796, aera 795 and aera 660 as well as the most popular apps in the industry, Garmin Pilot, ForeFlight Mobile and FltPlan Go.
Advanced Design
The GTX 45R transponder is an all solid-state design, which makes for lower power consumption and enhanced reliability, compared to earlier-generation transponder technology. It uses the GSU 25 Air Data Attitude Heading Reference System (ADAHRS) for IFR altitude-encoding information. Plus, its remote-mounted design makes installation easy, saving you valuable panel space in your aircraft. Refer to the Installation Guide for important guidance about optimal mounting location of GTX 45R in your aircraft.
Now the industry's most comprehensive line of ADS-B solutions includes an advanced transponder — optimized for your experimental and light sport aircraft — that unlocks the capabilities to get the most from your airplane, every time you fly.

¹ADS-B "In" traffic and weather not available with G3X legacy flight displays
²Limited to coverage in the U.S.
Physical & Performance
    Physical Dimensions (unit, rack, connectors): 1.65" x 6.30" x 9.9" (42 x 160 x 224 mm)
    Weight (unit, rack, connectors): 2.8/2.9 lbs (1.27/1.32 kgs)
    Voltage range: 14/28 VDC (18/20 W Max)
    Transmit power: 200 W minimum
    Tempertaure: -45°C to +70°C
    Operating altitude: To 55,000 ft (16,800 m)
    Cooling input: Not required
    Environmental Compliance (TSO Approved): DO-160G
    Software compliance (TSO Approved): DO-178 Levels B, C, D, E
    Hardware compliance (TSO Approved): DO-254 Level C
    TSO compliance (Approved): TSO-C88b (w/opt. alt. encoder); TSO-C112e (Class 1, Level 2els); TSO-C154c (Class A1S); TSO-C157a (Class 1); TSO-C166b (Class A1S); TSO-C195a (Class C1,C2,C3,C4)
    Mount type: Remote
    Transponder type: Mode A/C, S and ES
    Squawk code selection: Remote entry
    Traffic Information Services (TIS) alerts compatible: Yes
DISPLAY

ADS-B & TIS-B Traffic
FIS-B Products
Remote Transponder Control
TargetTrend™
TerminalTraffic™
G3X Touch
60 targets¹
Regional NEXRAD, CONUS NEXRAD, METARs, TAFs, PIREPs, Winds/Temperatures Aloft, NOTAMs, AIRMETs, SIGMETs, TFRs
Yes
Yes
Yes
GTN Series
60 targets¹
Regional NEXRAD, CONUS NEXRAD, METARs, TAFs, PIREPs, Winds/Temperatures Aloft, NOTAMs, AIRMETs, SIGMETs, TFRs
No
Yes
Yes
GNS 430/530 WAAS Series
8 targets²³
Regional NEXRAD, CONUS NEXRAD, METARs, TAFs
No
No
No
Output for GMX 200/MX20
Up to 60 targets¹
Regional NEXRAD, METARs, TAFs
No
Transponder Features  
Solid state transmitter (more efficient, longer life): Yes
Aural alerts: Yes
Automtatic ALT/GND mode: Yes
U.S. subscription-free weather and traffic: Yes
1090 MHz ADS-B Out: Yes
Dual-link 1090 MHz and 978 MHz UAT ADS-B In: Yes
TAS/TCAS traffic integration with ADS-B In: Yes
Reviews
No customer reviews for the moment.
16 other products in the same category: